Trainer Straw Cups are great alternatives to sippy cups, with a soft straw helping to develop sipping skills. In fact, some babies find a straw easier than a spout as they don't need to tip the cup as much.
NO SPILLS
The straw part of our Trainer Straw Cups flips down between sips to help keep it clean and stop unwanted spills.
SOFT & GENTLE
The super soft silicone straw found on our Trainer Straw Cups are easy to drink from and gentle on your baby's sensitive gums.
PERFECT FOR LITTLE HANDS
The easy-grip handles of our Trainer Straw Cups are perfectly designed for tiny hands. As your baby's drinking skills improve, you can remove the handles so they can hold the cup directly.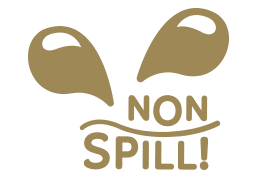 FEATURES
Specially designed to help your little one develop grown ­up drinking skills.
Super soft straw makes drinking easy and is gentle on gums.
Straw flips down between sips to stay clean and stop spills.
Removable easy-­grip handles are perfect for little hands
Cups are dishwasher safe if placed on the top shelf and can be steam sterilised for added piece of mind.
All Tommee Tippee cups are BPA free
Capacity: 230ml.
Available in a variety of colours